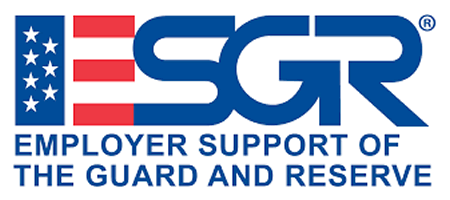 Returning Veterans
As a proud supporter of the ESGR ( Employer Support of the Guard and Reserve ) we fully recognize, honor, and comply with the Uniformed Services Employment and Reemployment Rights Act.
We will provide our managers and supervisors with the tools they need to effectively manage employees who serve in the Guard and Reserve.
We appreciate the values, leadership, and unique skills Service members bring to the workforce and will encourage opportunities to hire Guardsmen, Reservists, and Veterans.
We will continually recognize and support our country's Service members and their families, in peace, in crises, and in war.
We recognize prior Military Service members bring a vast wealth of experience that is why we continue to develop and promote supportive work environments for service members in the reserve components.
Our commitment to ESGR continues to adapt to meet the needs of Reserve Component members. This commitment is reflected daily by the efforts made to support citizen warriors through a wide-range of measures including flexible schedules, time off prior to and after deployments, and granting leaves of absence if needed.